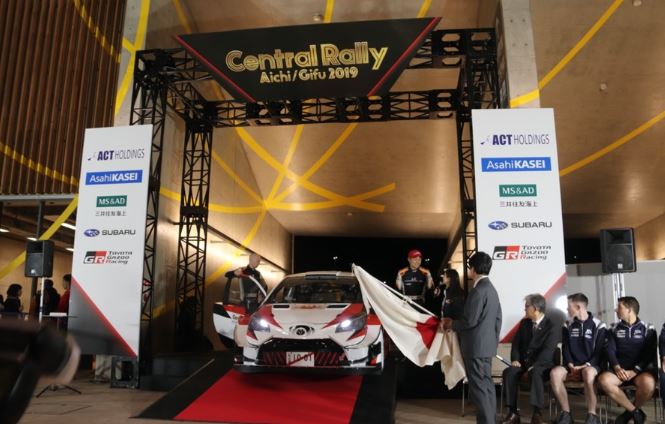 Nov 09 2019
ACCR Central Rally Aichi Gifu Rally Japan test event begins
Ceremonial start of ACCR Central Rally Aichi and Gifu 2019 was held on August 8 at Aichi Expo Memorial Park (commonly known as Morikoroko Park). This event is an international standard rally that will be the test event for Rally Japan 2020, the 14th round of the WRC (World Rally Championship) held in 2020.
Speaking of Rally Japan, it was held in Hokkaido from 2004 to 2010, and Subaru Impreza, Citroen and Peugeot WR cars were active. At present WRC, TOYOTA GAZOO Racing WRT is running Yaris.
As the competition in Japan for the first time in 10 years has revived, it is an event that raises expectations for drivers, staff and officials. In addition to Nagakute City, Toyota City, Okazaki City, Ena City, Shitara Town, Shinshiro City where the courses are set, the expectations of rally fans nationwide are also gathering.
The ceremonial start is a festive event literally for big rallies, where participants and vehicles start from the podium while the spectators watch the day before the competition begins.
The entry car in the international formal category is Takamoto Katsuta / Daniel Barrit's Toyota Yaris WRC, who participates in RC1 vehicles. For RC2 vehicles, Daiki Arai / Dolphin Minor Citroen C3 R5. Arai is the son of Toshihiro Arai, a WRC driver and champion of the All Japan Rally Championship. Other RC2 vehicles include the Skoda Fabia R5, Subaru Impreza WRX ST I, Toyota GT86 R3, Citroen DS3, Toyota Vitz, and Suzuki Swift.
In addition, Toshihiro Arai, Norihiko Katsuta, and Takuma Kamada, who are regulars of the All Japan Rally Championship, will participate in the domestic formal category. Arai and others are WRX STI, but there is also an entry for Mitsubishi "Lancer Evolution".
In addition, this rally will be co-sponsored with the Central Rally and the ACCR (Alpine Classic Car Rally) series. Toyota "Celica", Alfa Romeo, Ford "Escort MK1", Porsche, "Mini Cooper 1275S", etc. also run the same course To do.
The competition will take place on the 9th and 10th. Total mileage 700km. The de facto competition section is SS. SS total length is about 128km. Rally Japan in Hokkaido was a gravel-centered course, but Central Rally is an all-mac, but narrow Japanese paved forest road seems to bother players.
"DO NOT COPY" Above Currency Analysis, Prepared & All Rights Reserved By Zulfiqar Motors Co., Ltd